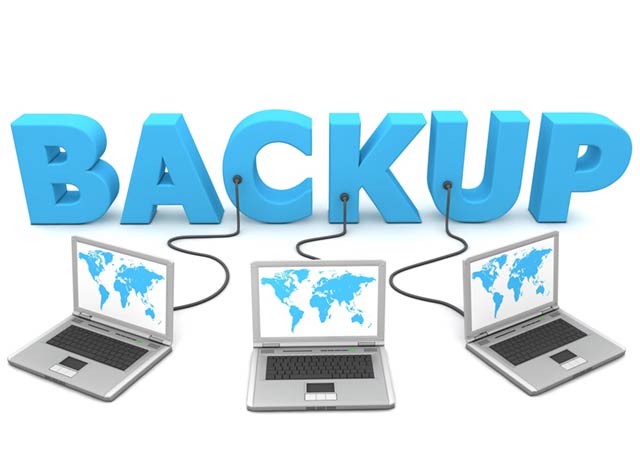 There are three essential elements in backing up and protecting your data:
Actually doing backups, most businesses don't seem to see the need;
Testing or running a regular backup to ensure it works;
Keeping a copy of a current backup offsite away from the office; fire, earthquakes tsunami's need more be said.
If you don't see the importance of taking a regular backup you might be interested in the following:
60% of companies that lose their data will close within 6 months.
34% of companies fail to test their backups, of those that do the failure rate is 77%.
6% of PC's will lose data every year.
Every week 140,000 PC hard drives fail (USA)
Drive recovery can cost upwards of $7,000 per drive.
Source – Boston Computing Consultants

To prevent disaster striking your business and to follow best industry practices you would need a minimum of four weekly sets of daily media stores (tapes, removable disks, etc), one set of month end stores and one annual backup store. This gives an annual total of 33 backup stores.
You also need a well proven backup process that will manage the system as follows:
Make sure the backups are running properly and not reporting errors;
At least once a month run a test data restore, don't assume it is working;
Store the backups at least 20 kilometres away from the computer systems;
Replace the backup media within the manufacturer's guidelines;
Keep the media away from all magnetic sources.
For most small and medium sized enterprises (SMEs) it will not be practicable or affordable to deploy 'Best Practices' however, as the remainder of this article explains, having effective backup systems is still attainable for SMEs.
In the old days, and by that we mean anything before 2005, backups were taken on a variety of media such as CD's, DVD's, tapes or even memory sticks. They took a long time to perform and often went wrong. The end result of this was that few backups were ever taken and a sizable percentage of them couldn't be used to restore data.
Everything has become a lot easier; if you are an individual wanting to backup one or two PC's there are a host of USB disk drive devices available. These devices install their own backup software and carry out the backup of data quickly and effectively. In fact all you have to do is plug the drive in, wait till the software says it has finished, then unplug the drive and put it somewhere safe (including holding an up to date copy offsite).
An ideal device for this task would be the Western Digital** My Book Essential which has 1 terabyte of storage (that's 1,024,000,000,000 bytes in old money); you would expect to pay around $140 for this device.
If on the other hand you are a small business or a home that enjoys a number of PC's on your home or business network then something like the Western Digital** WD My Book World which has 2 terabytes of storage would be ideal. This device is simply connected to your network and a small piece of software is loaded onto each of your computers. Every time that an email, document, spreadsheet, photograph, music file, or financial transaction, etc is created or saved it is instantly backed up. It will even keep several versions of the same file which gives great flexibility.
Many small businesses use these devices instead of Microsoft File servers as they also provide somewhere to share data. The cost of this effective device is less than $400.
Of course to adhere to best practice at least two of these backup devices should be used so that they can be swapped with one being held away from the office.
Electronic data is a key part of all our lives so be safe out there – take a backup.