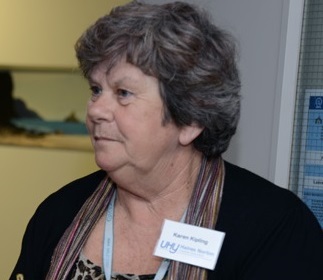 It truly is the end of an era: UHY Haines Norton's Administration Manager Karen Kipling is retiring after no fewer than 25 years with us.  In 1989 Karen started working for us as a typist – securing the job when the first successful applicant didn't return after just one day on the job!   Luckily for us she had more staying power, and through the years her role expanded to take over payroll, office manager and financial duties while also managing the Administration team.
As with so many organisations, it is the people that make the difference.  Karen has developed close friendships with many of her colleagues and tells me she will really miss her lunchtime laughs over the crossword puzzles.  One of her more memorable escapades involved taping a certain staff member (who will remain nameless) to an office chair in the car park in a bid to teach him some manners!
There have been many company social events over the years involving various costumes, themes, games, locations and general hilarity, and Karen has been an integral part of all of these.  Her involvement in planning, organisation and even clean-up has ensured these events have always been lots of fun for everyone.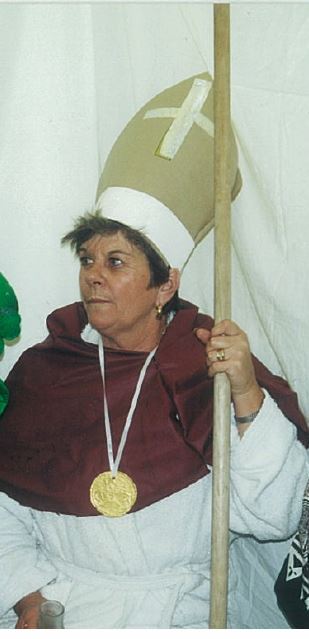 Karen and her husband are looking forward to retiring in Waipu, and spending time with family there.  She has contributed enormously to the organisation over the years and will take with her a wealth of knowledge.   Although many staff members have come and gone, current UHY Partners Kerry Tizard and Tim Livingstone have both had the pleasure of working with Karen for the past 25 years:  "Karen has been a pleasure to work with and words will not do justice to Karen's contribution to UHY.  She is a straight shooter, a hard worker and team player with strong family values and an infectious sense of humour.  Thank you Karen for the large contribution you have made to UHY over the past 25 years".
We will all miss her and the support she has provided, and wish her a wonderful retirement by the beach.  And Karen – if you're ever in need of some Christmas spirit, please come and see us and we'll organise some of the yellow kind (or was it green??)