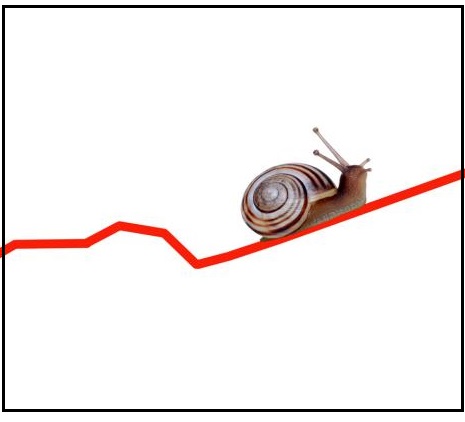 Sometimes the activities involved in running your business make your head spin.  It's so busy you don't have time to think and you get to the end of each day happily exhausted with what you've accomplished.  Orders are coming in, customers are buying, and your business is growing.  Most small businesses go through cycles when it is this busy, but they also experience days or periods of time that are painfully slow – times when minutes feel like hours, customers seem to have all gone on vacation at the same time, and our production department is playing cards to fill the time.  It may be tempting to put your feet up and check out until it gets busy again, but you could be filling that valuable down time with activities that will improve your business productivity.  Here are a few ideas for ways to stay busy, even when business is slow.
1. Send out a letter to your customers
Keep your business top of mind with your customers.  Keeping in touch with customers can get forgotten when things are busy, so when you find yourself in a slowdown, take the opportunity to touch base again.  It doesn't have to be much – just remind them that you're there.  Let them know if there's something new they might be interested in, or write a brief article on an area of your expertise and their interest (e.g. 7 Ways To Keep Your Carpets Fresh, Tips to Get Your Home Ready to Sell).
2. Organize your office
Oh, that chore.  Yes, from time to time it's good to get caught up on your filing, look through those piles of stuff and decide to throw most of it away.  File the good ideas where you might actually look at them again.  Clear off your desk, organize your books, and generally de-clutter your space. Don't forget your computer desktop.  Once it gets busy again, you'll be glad you did.
3. Meet with other business owners
This is the time to form some alliances, build partnerships and just get together with other people.  When we're busy, we rarely take time to network, work with our mentors or just hang out with our colleagues.  These activities can be the springboard to new ideas, information about your industry or market and might even lead to new customers!
4. Catch up on your expenses/books/taxes
For small business owners this is often a task that repeatedly falls to the bottom of the "to do" list.  Then, come tax time it's a scramble to find and record all your receipts and get them ready for your accountant to do year end.  Do some of that organizing when you have time, and you'll be amazed how good it feels to have that stuff ready to go when it needs to be.
5. Play with your staff
If business is slow, it means everybody is bored.  Take this opportunity to do some team building activities. Plan a potluck lunch staff meeting.  Watch training videos you never have time for.  The staff that plays together stays together.
6. Actually DO all the things in your "to do" pile
Admit it – you have one.  That pile of things you mean to do if you only had the time.  That article you need to edit, newsletters you want to read, ideas you want to flesh out, the book you wanted to order, the magazine you wanted to clip the article out of, the expenses that need to be filed, the letter you've been meaning to write . . . the list goes on.  Think of how many productive things you could do if you actually attacked your to-do pile when you had some spare time.
7. Take some time off
You're always complaining you can never get away because things are so busy.  Now's your chance when business is slow.  The staff can take care of things in the office – get out for the afternoon and enjoy a round of golf, go to a matinee, spend the day at the beach with your favourite book, even get away overnight and enjoy a bed & breakfast somewhere. That way you'll be rested and ready to go when things pick up again.
8. Clean up your email files
This is not something most people enjoy doing, but it can really help to increase your efficiency when you're trying to find things.  Be liberal with your delete button and stay on top of that chore.
9. Brainstorm for new ideas
Gather your staff for brainstorming sessions.  Ask the big questions you don't have time for when things are in high gear.  What new innovations might you try?  What do your customers need that you're not providing?  How can you have more fun at work?  What areas need to be developed?  What's new in the industry – in your specific market?  What crazy things are you willing to try?
10. Read
Successful people are readers.  They read newspapers, magazines, trade publications, novels, business books, self-help books – even instruction manuals!  When things are slow, take advantage of the opportunity to read.  Reading is never a waste – it keeps your mind sharp, fills you with knowledge and inspires ideas.
The next time when business is slow and you find yourself looking around for something to do, take this list and dig in.  When business picks up, you'll feel a lot better about what you accomplished, and your efforts will work for you.