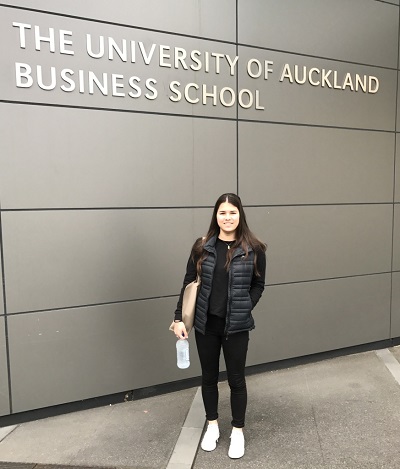 Our 2016 Study Scholarship winner, Reagan Davis from St Dominic's College, tells us about adjusting to tertiary study after college.
Studying at the University of Auckland has been a very interesting experience. At first it was quite overwhelming coming from St Dominic's College with only 600 girls, to being one of 1000+ new first year students in the Business School alone – it definitely took some time to get used to the number of people within the University! During the first semester, learning to balance the requirements of four courses all at once in such a short timeframe, plus a part-time job and other commitments was quite an adjustment.
I have really enjoyed being able to focus on subjects I am interested in. The first year core business papers offer a wide variety of different subjects from Commercial Law to Accounting and Economics. It is good to be able to get a taste of all these topics, which then helps you to decide what you want to focus on and select as your majors. I have chosen to do a double major in Management and Operations and Supply Chain Management. I am looking forward to getting in to the stage two and three papers required for my degree in the next coming years.
As I head into semester two, I definitely feel more prepared for the fast pace of university study. I have met some great people and I am fortunate to have access to the Tuakana Learning Program. Tuakana provides support for Maori and Pacific Island students taking all first year papers, and this has really helped me to remain focused and on track. Although it has taken some getting used to, I have come to really enjoy university and I am very much looking forward to the rest of my time here at the University of Auckland.