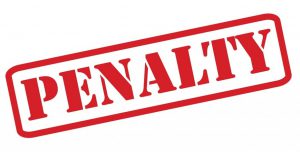 The majority of businesses have a balance date of 31st March and pay provisional tax in three instalments. The provisional tax payment due dates are:
1st instalment – 28th August
2nd instalment – 15 January
3rd instalment – 7 May
It is important to meet these deadlines, because late payments will incur penalties of 1% for the day after the due date, 4% for seven days later and an additional 1% for each month the tax remains unpaid.
However, if the provisional tax due date falls on a Saturday or Sunday, the deadline becomes the next working day. Earlier this year, two payment due dates were affected:

Therefore no penalty should have been incurred for provisional tax payments made on 16th January or 8th May because this was the next business day. However, we have seen that occasionally the IRD has mistakenly charged the 1% late payment penalty. Please be aware that this can happen, and if you are not sure if you have been charged a penalty in error earlier this year please contact us and we can check this out. If you have been mistakenly charged a penalty, we can raise a query with the IRD on your behalf to have this reversed.