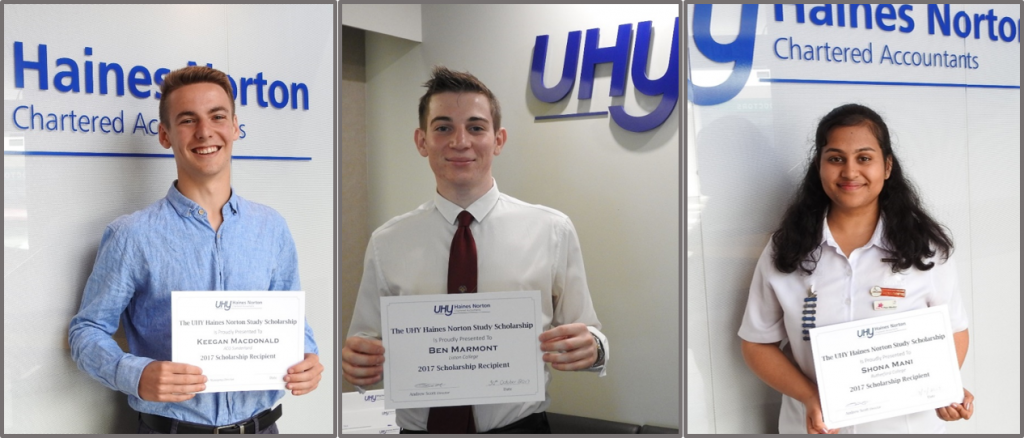 We are thrilled to announce that this year we are in the fortunate position to be able to award not one but three UHY Haines Norton Study Scholarships! From a large number of high calibre applications, we have chosen the very deserving Study Scholarship winners for 2017: Keegan Macdonald from ACG Sunderland, Ben Marmont from Liston College and Shona Mani from Rutherford College.
 Keegan Macdonald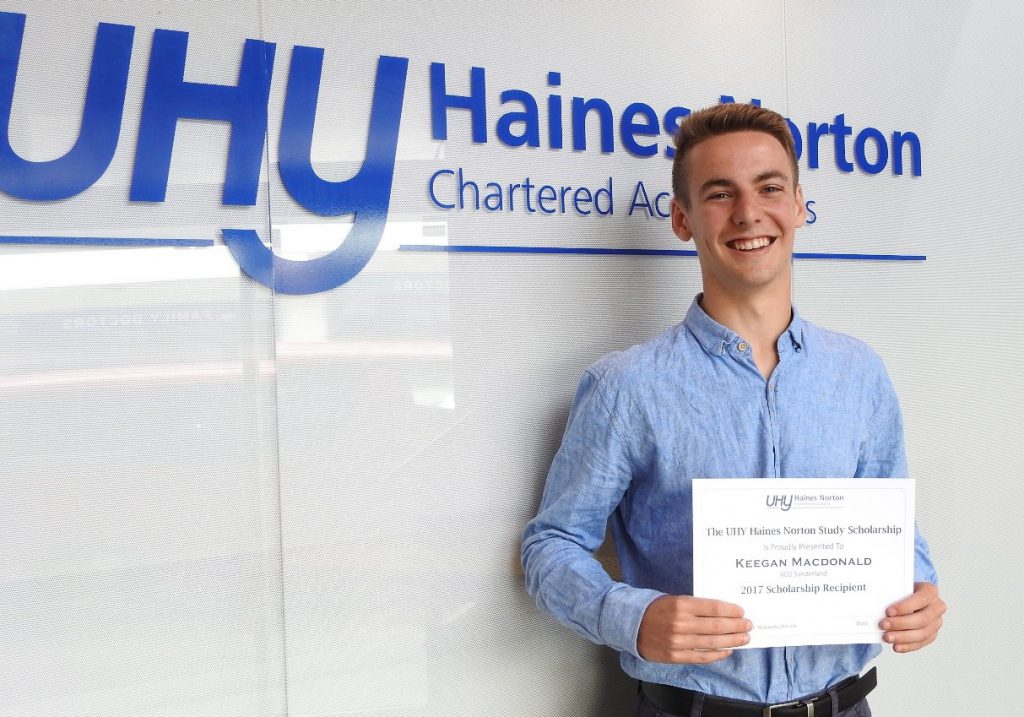 Keegan Macdonald, a Year 13 student at ACG Sunderland, has achieved outstanding academic success. In 2016 he placed second overall in his year level and was the school's top business studies student, winning the 'Business Cup for Effort and Achievement in Business'. This year Keegan continued his exceptional academic record by being awarded 2017 Dux in addition to receiving the Year 13 'First in Class' certificate, 'Mathematics Cup for Excellence' in Senior Mathematics, the 'Business Studies Cup for Excellence' in senior Business Studies and the 'Graphics Cup for Excellence' in Design Technology.
Diligent and hardworking, Keegan's academic record is the result of an excellent work ethic. His results and achievements have improved each and every year. As the UHY Haines Norton Study Scholarship is designed to help students with a passion for finance and numbers on their career paths, Keegan's perceptive aptitude for finance and business fits this perfectly.
Keegan is an excellent role model at ACG Sunderland. His senior leadership roles include Head of McDonald House, where he has helped organise school-wide events with great enthusiasm. His motivational and organisational skills have proved invaluable in this and other activities, always inspiring younger students to participate and help others.
In Year 9 Keegan was awarded an 'Aspire Scholarship' to attend ACG Sunderland. He admits the first year was challenging because it was so different to his Intermediate school. However, he received great support from his teachers which has been invaluable in helping him to realise his potential. He also speaks highly of the example set by the house leaders, and the positive role his peer support network played.
Next year Keegan plans to undertake a conjoint Engineering and Commerce degree, and ultimately has his sights set on a career as a civil or mechatronics engineer running his own business.
Keegan is a firm believer in hard work. "When you're younger you see your friends or class mates with natural talent coming top of the class or winning all of the races," he says. "But as you get older it becomes less about your natural ability and more about your persistence. Back when I was a Year 9 if I could have seen myself sitting here I wouldn't recognise myself! It's all about doing what you are passionate about, because then you will enjoy it and do well. I've seen some kids take subjects they don't like because they think they should, and then they don't do as well. I think you should do whatever you enjoy the most and that will lead to a career that you enjoy."
We have no doubt that Keegan will be a great success in his chosen field, and are delighted that we can contribute to the next stage of his journey.
Ben Marmont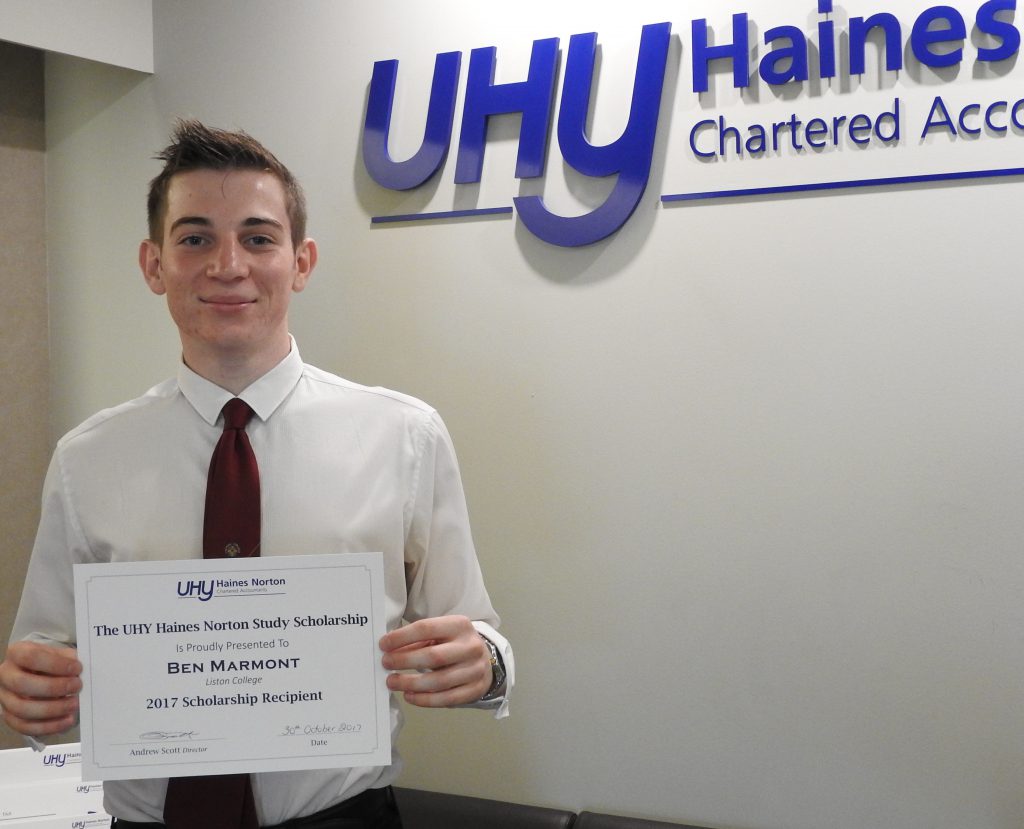 Ben Marmont, a Year 13 student at Liston College, has embraced a wide range of academic, sporting and cultural opportunities with equal enthusiasm. His academic growth has gone from strength to strength during his time at Liston, resulting in him passing NCEA level 3 with merit and tracking towards excellence (pending his external results).
Ben's sporting achievements include several years of playing rugby, and representing the school in the New Zealand Secondary Schools Squash tournament. He believes these sports have helped his ability to work well in both team and individual activities, both of which he enjoys for the different challenges and rewards they pose.
Ben has thoroughly enjoyed his years at Liston College, and appreciates the many opportunities and support he has been given, including being baptised in a very special ceremony at the last mass of the year. Last year he had the opportunity to travel to Wellington with fellow Year 12 and Year 13 commerce department students, visiting the Reserve Bank, Parliament, Treasury, the Department of Statistics and Te Papa. The trip was a highlight of Ben's time at Liston College, and seeing the government departments in action increased Ben's interest in economics and commerce and cemented his decision to follow that as a career.
"Going to school out West you are given a lot of opportunities," said Ben. "It can be hard to balance school work, sport, social life… but you have to make sacrifices. You need to work hard to achieve what you want to do. And it's worth it."
Ben plans to follow his love of economics and commerce with a Bachelor of Business Studies at Massey University next year. Eventually he would like to travel and see the world, and ultimately sees himself in a commerce-related career.
Ben grew up in Kumeu and believes that diversity is not only accepted but celebrated in West Auckland. He loves the way the region allows you to "just be you".
We congratulate Ben on receiving a UHY Haines Norton Study Scholarship and look forward to watching him follow his study and career path.
Shona Mani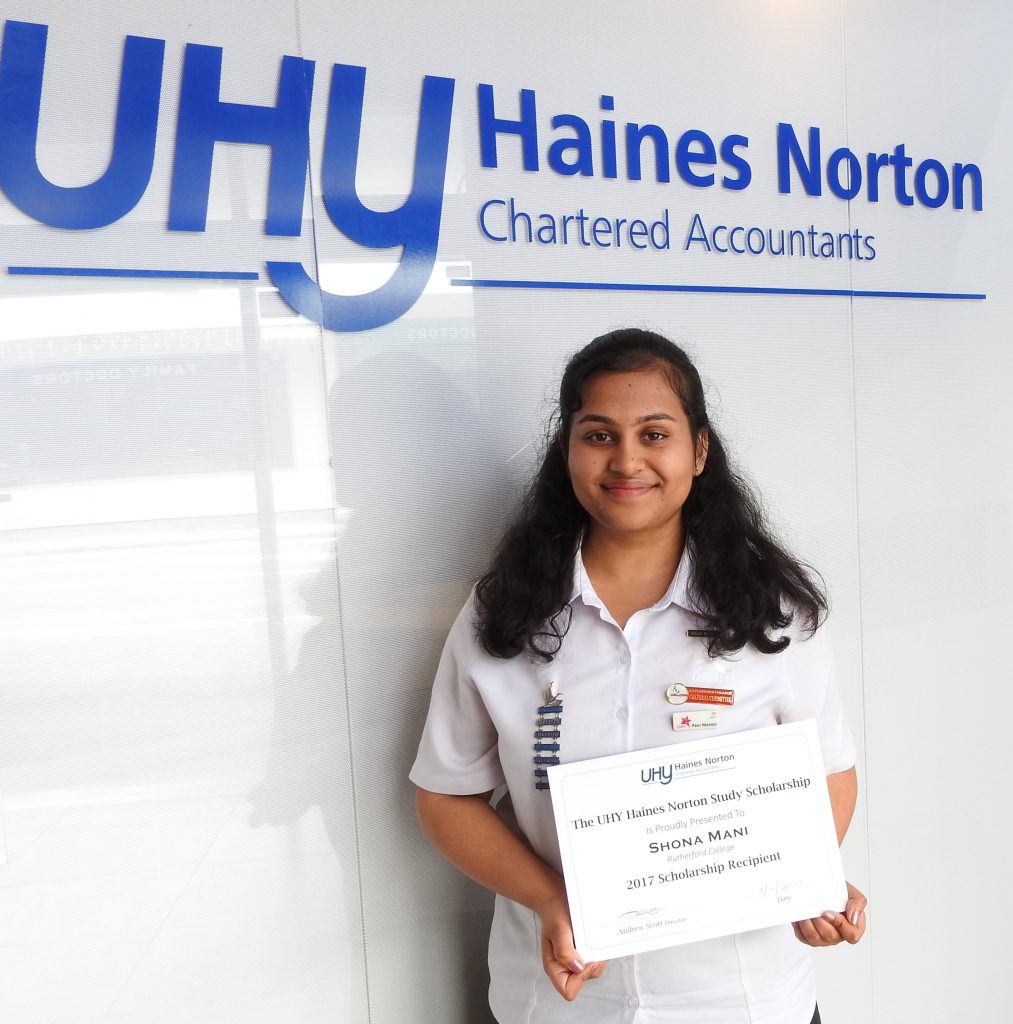 A Year 13 student at Rutherford College, Shona Mani's excellent academic record is testament to her diligence and drive for achieving excellence. A perfectionist by nature, she has consistently improved her academic results throughout her schooling and endorsed NCEA Level 1 and 2 with excellence. Her hard work was also rewarded when she was selected as the Auckland representative to travel to Wellington to participate in the NZ Geographic Olympiad Team. This year is no exception, as Shona is also on track to endorse Level 3 NCEA with excellence. She is particularly talented at Business Studies and Accounting, and was awarded first in Accounting this year.
Shona has been heavily involved in a number of cultural groups throughout her time at Rutherford College, including the Environment Committee, Animal Rights, SADD and Unicef. Her enthusiasm and talent for organisation saw her develop into a leadership role in most of these groups. She is passionate about community spirit and has been instrumental in many successful events designed to encourage community spirit at Rutherford. She has motivated her fellow students to become more environmentally-friendly through Environment Committee initiatives such as planting a tree for every Rutherford student this year, and organising recycling bins.
"I think for me personally it has been important to take every opportunity I can get my hands on," said Shona. "Even if I don't succeed it at, everything is still a great learning experience. I can take those experiences and apply them to other things in life. All of my experiences from all of the clubs I joined and everything I've been involved in prepares me for the next experience. I can take those skills and put them into practice."
Family is very important to Shona. She is particularly inspired by her parents and uncle, who encourage her to always do her best and follow her dreams. "When I was quite young my uncle used to always tell me you should do what you love because that will take you places – and even if it doesn't you will always enjoy it," said Shona. In the future she sees herself putting her love of Accounting and Business Studies to good use within the finance industry. Shona's tertiary plans are to pursue a Bachelor of Commerce at the University of Auckland, majoring in Accounting and Commercial Law.
Having lived in West Auckland since moving here with her family as a very young child, Shona loves the area's natural environment and the people, who she says are friendly and laid back but also work hard. In the future she would love to work with organisations helping the West Auckland community progress forward, such as the Foundation for Youth Development and the Salvation Army.
We wish Shona every success for her future tertiary and career path, and are sure her enthusiasm and positivity will lead to wonderful opportunities.