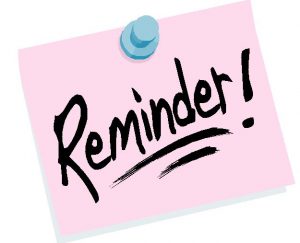 Now, we all know the financial year end might not be as fun as the end of the calendar year. There are no parties to look forward to, and any all-nighters are not nearly as fun! However, now is a great time to start thinking about all of those little jobs that need to be completed before 31 March rolls around. This way you can get ready to start a new financial year and have everything organised to make completing this year's accounts quicker and easier.
Bad Debts: Chase Up Debtors, NOW
It can be very painful, both on the bank balance and the ego, when debtors refuse to pay. So to lessen that blow, it is very important to review your debtors and physically write off any bad debts in your accounting system prior to close of business on 31 March in order to claim a tax deduction. If you enter the bad debt into your system after 31 March, you will have to pay tax on the income as you have invoiced for it and it is technically owed to you as at 31 March.
Debtors
Debtors, or accounts receivable, are the sales or services you have performed and invoiced but not yet received payment for at the financial year end. On 31 March draft up a list of customers and the amounts they owe you as it can be easier to capture this information at the time rather than trying to locate past information.
Petty Cash
Physically count any petty cash you have at 31 March and make a note of this total. Reconcile this total to any petty cash receipts and make sure you have entered your petty cash expenses into your accounting software. This allows us to claim a deduction for tax and make adjustments for GST that may not have been claimed during the year.
Creditors
Draft up a list of suppliers and amounts you owe on 31 March (these are usually the accounts due to be paid in April). As with debtors, it can be much easier doing this at the time.
Stock/Livestock Counts
It is a great idea to set aside some time on 31 March to count any stock you have, especially livestock, so that you can provide us with the correct details for the year end accounts. Remember, if your stock count is not correct then you could be paying more tax than you should, and nobody wants that.
Please note that obsolete stock must have been physically dumped in order to be excluded from the year end stock count.
Work In Progress (WIP)
As well as stock on hand at 31 March, you may have substantially completed jobs which are yet to have been billed. On 31 March you should take note of the progress on these jobs and tally up the costs (excluding GST) that have been applied to these jobs. The costs will be made up of direct costs including any stock items used and any employee/subcontractor time attributable to the job. Like closing stock, WIP costs are costs that do not relate to sales for the period and are, therefore, an asset rather than a deductible expense at 31 March. WIP will not include costs which have been billed in an interim invoice that covers work to date. If you are unsure how you would calculate the cost of your WIP at 31 March, please give us a call and we can be of assistance.
Deposits For Goods Not Supplied/Work Not Done
Any payments received from customers for goods which have not left your business premises by close of business on 31 March (and are therefore included in your year-end stock take) or deposits for work which has not yet been completed will be a liability at 31 March rather than taxable income which has been earned in the period. Please make a note of these payments/deposits and advise us when you send your records in.
Shareholder Current Accounts
When a shareholder owes a company money, this is called an overdrawn current account and the company will need to charge the shareholder interest on this overdrawn balance. The company will then pay tax on the interest income, but the shareholder will not be able to claim a tax deduction in their tax return. In order to minimise the interest charged for the year, it is a good idea to check these current account balances and pay back any overdue funds, where possible.
Erin Gibson is an Accountant at UHY Haines Norton.