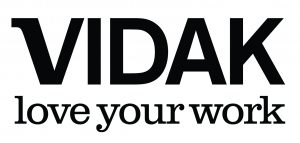 Congratulations to UHY Haines Norton client Vidak, who are celebrating 30 years in business! The firm's inspiring success story has seen them evolve from a home garage beginning in the Eastern suburbs of Auckland, reselling an Australian partitioning system, to developing their own systems and delivering leading workplaces in New Zealand, the Pacific Islands and Australia. Vidak now has branches and representation in Auckland, Tauranga, Wellington, Christchurch, Melbourne and Fiji to support this.
Vidak, New Zealand's leading designer and supplier of innovative office furniture, was formed in 1987 by four Kiwis including Mike and Louise Vidak and Maurice Davies with a "can do" attitude and a vision to improve workplaces in New Zealand.
Their original business plan included the prediction that within 10 years 70% of office staff would have a visual display terminal on their desk, and this set the direction for Vidak's products to have excellent wire management and ultimately provided the firm's competitive edge.
The win of a multi-level fit out for a major New Zealand insurance company followed by other large corporate projects resulted in steady growth in the early years. At the end of their first decade in business, Vidak had grown to 30 staff and had a highly respected track record within the furniture fit out industry.
From a product perspective, change was relatively rapid. The expensive, chunky, hard-to-relocate workstations of the 1990s went out of fashion to be replaced with much cheaper, flexible, easy-to-cable products. The demand for thinner, lower screens led to the company developing a new screen and desking system which opened up an export market in Australia.
By 2002 Vidak had grown to 42 staff, and in 2007 the firm opened a branch in Wellington. The rapid change in technology over the past 10 years to WIFI and mobile devices has opened the door for opportunities of new ways of working, having a major effect on the workplace, where desks and screens – Vidak's "bread and butter" – have become just a part of the workplace puzzle rather than the puzzle itself. Vidak's approach has changed to embrace new technology and ways of working (Activity Based Working, Flexible Choice, Agile and more), focusing on the people in organisations and their tasks. They now provide soft fit out (furniture) solutions and advice to improve staff experience and productivity, or in their words "to make workspaces more awesome". This means Vidak are regularly commissioned to work alongside major customers and their consultants in a "solution-based" role, including large scale delivery to all parts of a workplace, advanced technology integration and bespoke designed solutions to suit key organisational requirements.
As a result Vidak now boasts a 200-page product offering (and counting) that ensures their existing client partners are at the leading edge when it comes to their existing workplaces and Vidak can be a "one stop shop" for soft fit out projects now and into the future.
Vidak's success is testimony to their enduring ability to anticipate and embrace change, and we congratulate Louise, Mike and the team on achieving 30 successful years in business.