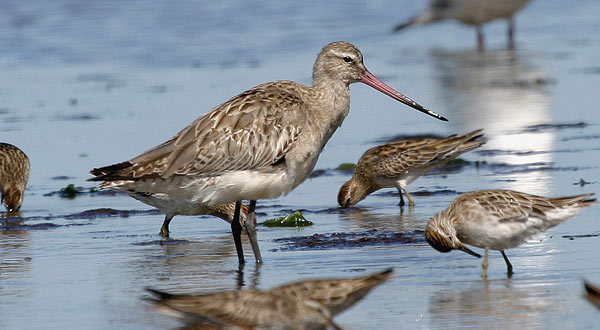 UHY Haines Norton client Adrian Riegen is a West Auckland builder and passionate bird conservationist. A volunteer with the Pukorokoro Miranda Naturalists' Trust and convenor of the New Zealand Wader Study Group, Adrian is actively involved in the tracking and conservation of migratory shorebirds. He has flown to North Korea seven times to observe the migratory godwits' six-week stopover on the mudflats of North Korea's coastline. In 2018 the TVNZ Sunday program joined him to document the work (YouTube: The Secret North Korea Stopover).
Just recently, Adrian was a member of the team which welcomed Prime Minister Jacinda Ardern and Conservation Minister Eugenie Sage to the Pukorokoro Miranda Shorebird Centre in the Firth of Thames. They were celebrating the announcement by UNESCO's World Heritage Committee that parts of China's Yellow Sea and the sanctuaries it provides for migratory birds will become world heritage sites. This would significantly help New Zealand birds, including godwits and red knots, to make their annual 15,000+ km journey to the Arctic.
That migratory flyway is the longest for any birds, extending from Awarua Bay near Invercargill to the North Slope in Alaska via the Yellow Sea in China, a distance of 17,000km. The birds journey from Miranda to their Arctic breeding grounds every year with only one stop en route in China's Yellow Sea to feed. Industrialisation of the Chinese and South Korean coasts has resulted in two-thirds of Yellow Sea mudflats disappearing over the last 50 years. Making these stopping points heritage sites means that they will hopefully provide much-needed protection and recognition for the migratory shorebirds.