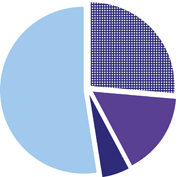 In business, profit is everything. It's not enough to have loyal customers, great quality, reliable sales or a great reputation if your profit margins are not adequate. But how do you gain an understanding of your business' profit margins and ways you can optimise them?
UHY Haines Norton's profit improvement experts specialise in working closely with businesses on profit improvement strategies.  Our role is to identify the key profit drivers within your business as the first step towards improving and optimising profit margins. It is important to look at everything that influences profit: all product or service lines, the profit performance of individual departments, distribution costs, individual branches and much more.  Once we have an understanding of the key profit drivers, we work with you to develop strategies to improve margins, such as increasing sales, improving cashflow, reducing expenses, reviewing pricing, renegotiating suppliers or strategising for expansion.
Because no two businesses are the same, the key to improving your business' profit will be different to other businesses. We develop strong client relationships that allow us to work seamlessly, achieving improvements and successfully managing change in a way that is tailored to you. We are committed to adding value to your business, and are passionate about helping your organisation to succeed.
Contact Us
Our introductory meeting is free – contact us to learn more about how we can help you to improve your business profitability. UHY Haines Norton's Business Improvement Manager, Michael Jamieson, is an experienced Chartered Accountant with a proven track record in helping businesses in all types of industries to improve their profit.
Michael Jamieson, Business Improvement Manager
t: +64 9 839 0246
e: mjamieson@uhyhn.co.nz