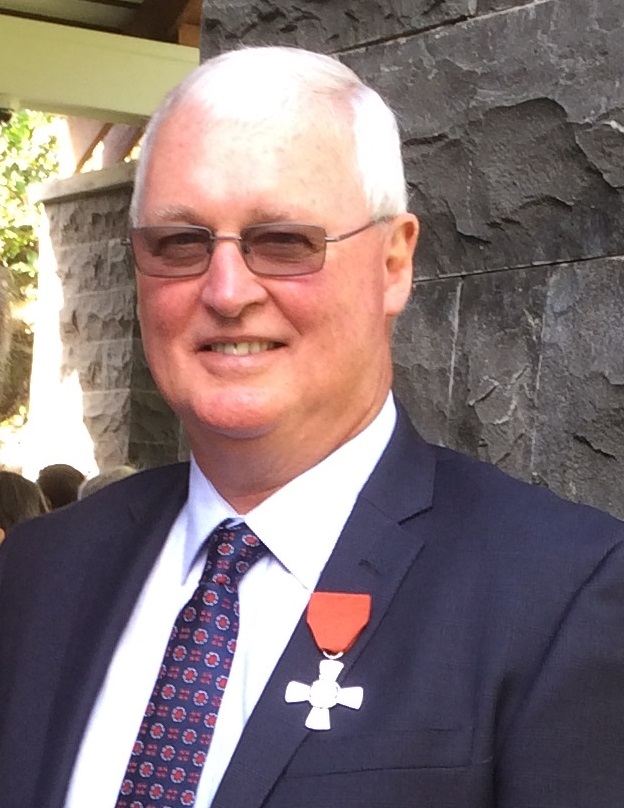 In the 2016 New Years' Honours, UHY Haines Norton Director Tim Livingstone was awarded the New Zealand Order of Merit for services to business and the community. Tim has been a Partner at UHY for over 30 years, including 10 years as Managing Partner of the practice.
Tim is President of the West Auckland Business Club, an initiative he was instrumental in developing more than 20 years ago. He is a member and Fellow of the New Zealand Institute of Chartered Accountants (now Chartered Accountants Australia and New Zealand), having served as Councillor and as Chair of the National Public Practice Committee. He is on various commercial Boards and Community Trusts, and chairs the Audit and Risk and Remuneration Committees for some of those entities. Tim has been a Trustee of the Waitakere City Stadium Trust since 2004 and was Deputy Chair of Sport Waitakere among many other entities. He is passionate about supporting the culture and heritage of West Auckland, with active involvement in projects such as the Portage Ceramics Trust and the Lopdell House Development Trust.
In such a busy and varied career, what are some of your career highlights?
I guess I have been very lucky with my career. I enjoy what I do and one of the things I love doing is working on community activities. During my time in the practice I've had involvement in various community projects, but one of the standouts has been the Trusts Stadium. It was originally a $28m build with another $10m for the grandstand and this was completed on time and debt free. Another standout is the Lopdell House Development Trust. It was roughly a $20m build to refurbish the old Lopdell House and build the new Te Uru Gallery, and again we brought that in on budget. Both of these Trusts have had a high calibre of dedicated Trustees who have been incredible to work with.
I enjoy building things and creating things for the community, that's been a great fulfilment. I've been fortunate in that my Partners at UHY have allowed me to follow my passion.
I've been involved in the Portage Ceramic Trust which bought the invaluable collection of Crown Lynn Pottery – to me this is a great community asset. Thanks to the dedicated efforts of avid collector and excavator Richard Quinn, we were able to acquire the collection from him. The collection now resides in a magnificent Ambrico building in New Lynn. Crown Lynn was a major employer at the time when I was growing up in West Auckland – they employed something like 500 people under the stewardship of Sir Tom Clark who was quite entrepreneurial and clever. Being involved in a project like that is also a joy.
Projects such as the Trusts Stadium, Lopdell House and the Portage Ceramic Trust are certainly legacy-type things. I was also involved with Sport Waitakere for 8-10 years. This is another fantastic community organisation that promotes changing lives and empowering people of all ages through sport and recreation.
Was it always your intention to become a business and community leader?
I have a philosophy that we live in a country that has got some great assets and a great community. I could drive into my office in Henderson every day and drive out again every day and just do my job, but I like to give something back.
You've been one of the driving forces in the West Auckland Business Club for several decades now…
The West Auckland Business Club has been going for 30 years and it was the creation of Dick Fielding who was an ASB manager in Henderson. He saw that West Auckland really had no business networking opportunities and went about developing a Club for networking. When Dick retired from the bank and moved out of the area I took over the WABC and built up a relationship with Waitakere Enterprise and subsequently ATEED. We signed a Memorandum of Understanding with them for event management and membership management services. Today the WABC has 3 sides to it:
Business After 5 (monthly business networking functions)
Business Forums (breakfasts or luncheons with guest speakers)
Business Showcase (business expo forum)
We are also excited to be re-launching the West Auckland Business Hall of Fame which recognises iconic individuals who have contributed substantially to the region's economy, business development, community and/or culture.
The WABC aims to give back accumulated profits to the community and has donated over $50,000 to the West Auckland Hospice, the Salvation Army and lots of other West Auckland community charities.
Tell us about your time as Managing Partner at UHY Haines Norton.
I managed UHY Haines Norton for 10 years and during that time we went through some significant changes and growth. We grew from a three-Partner to a six-Partner firm with the merger of Grant Brownlee's and John Ballard's firms. Some of the significant changes involved "corporatising" the practice: bringing in some of the corporate disciplines necessary to run a practice which was important. We also strategically decided to stay in Auditing and have a stand-alone Audit Partner. Another change was our affiliation with UHY international. When I first started in the practice there were three Partners and about seven staff. Today we're a five-Partner practice with around 50 staff in three office locations. You don't get that growth without fundamentally having good disciplines and I was fortunate to be a part of that, and fortunate to be supported by five other very good Partners during that period of time. As I say, my career has been a very lucky career.
What challenges have you learned to overcome?
I think the biggest challenge for me personally is I've never been very good at saying "no" and I end up taking on more and more work. This has placed enormous pressure on me at times, particularly when I was Managing Partner with one of the biggest fee bases in the practice at the time. I would be working 6-7 days a week on a pretty regular basis and working until 10pm at night, often at home. So it did take a toll. Ten years ago I went through a health scare which was an 'interesting' experience; having always been in control of things, I was in a situation where my doctor had all of the control. Fundamentally, having gone through that experience I recognise that at times I was not communicating very well with clients. I was rushed and sometimes preaching from the pulpit rather than talking at their level and helping them to understand their business. I've learned how to delegate.
What are you looking forward to next?
Ultimately I do want to be able to sniff the roses. Over time I will need to move into retirement mode. I think there does become a time in life when you need to pass the baton to younger talented people. That has to be done over a period of time. It's difficult to be a good practitioner and keep up-to-date and keep your mind sharp and active if you're only working part time. I use the athletic analogy that if you want to be good at what you do, you need to continue to train yourself and be quite focused on what you're doing. Always be thinking of the clients. If you're not going to properly look after them and give them good professional advice that is up-to-date and current then I think you're selling your clients short. I never want to be in that position.
For the next few years I will continue my involvement in the practice and business community. But there will come a time when I will need to start to back off. In the meantime it is business as usual!
On behalf of everyone here at UHY Haines Norton, we congratulate Tim on very deservedly becoming a member of the New Zealand Order of Merit.