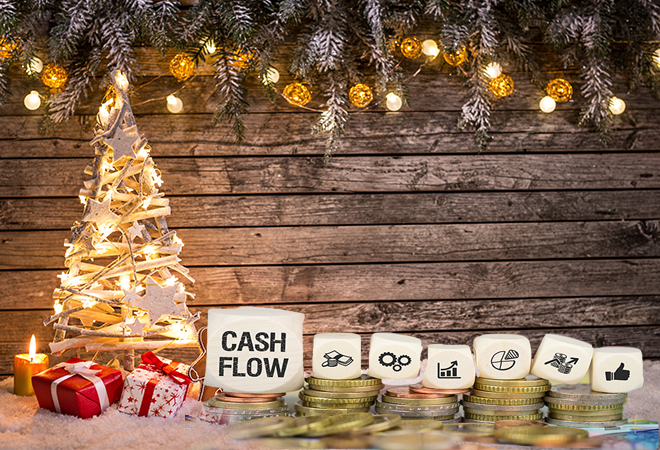 Holiday breaks are a time to re-charge for the year ahead. However, for business owners, it can be a stressful time for cash-flow. Have you got the strategies in place to ensure you are in the best financial position this year with your Christmas cashflow planning?
Christmas holiday breaks are a chance to re-charge for the year ahead. After the year we have had, the reprieve could not be more welcome! We look forward to summer weather and finally setting up an out-of-office email for the break. However, for business owners, this time can be stressful without careful cash-flow planning.
Even if you do continue to operate through the holiday shutdown season, your customers' financial behaviour may not remain the same. It is likely that somewhere along the supply chain people are on holiday, meaning payments can stop coming in and the flow-on effect can be immense.
The strategies and tips shared below are generalised. However, we are here if you need to budget and prepare a cash-flow forecast. We can also help if you need assistance in applying for short term finance to get you through the break.
Why is cash-flow planning particularly important at this time of year?
Staff leave needs to be covered in addition to your normal fixed overheads like rent, creditors and tax compliance (with many GST and provisional tax payments being due on the 15th of January). The budget and forecasting process ensures you know your numbers and are prepared. If you are shutting down, you won't be deriving revenue during this period and sales may take time to get started again in the new year.
Here are some simple Christmas cashflow strategies that can help
Decide your Christmas and holiday break dates – confirm these with staff, customers and suppliers.
Budget and plan for annual leave – remember the pay rates may be higher than standard hourly rates, also factor in statutory public holidays.
Decide if you are going to pay out leave in full at the beginning of the Christmas break or continue to pay as usual throughout the break. The payment date will affect when the PAYE etc is due to be paid to the IRD.
Review your work in progress (WIP) – plan to complete jobs or services that can be invoiced and paid before Christmas (remember if you don't invoice and get paid before Christmas, you may not see the money until mid to late January).
Capacity planning. There is often a rush to get everything done before Christmas, whether it's the kitchen benchtop installed or the beauty treatment before the break, so make sure you have the capacity to maximise on this.
Stock-take. Do you need to order in goods now to be able to complete work in progress? Check that there is stock on hand available.
Making an arrangement with the Tax Office. If you find you cannot make payments, it is possible to apply for an instalment arrangement or tax credit purchase. There are costs associated with this, however it may provide a solution that gets you through the holiday period. To minimise penalties and interest, the instalment arrangement or tax credit purchase should be set up prior to the tax payment due date. Talk to us, we can help.
Set up payments before leaving the office. It is helpful to set up any required payments in the business internet banking and ensure they are approved before everyone shuts off their computers to enjoy a much-needed break. Review the bank account balance to ensure there are sufficient funds to cover all outgoings, as collections may be slow or non-existent over this period. If things aren't looking so rosy, contact your bank manager to arrange an extension to the business overdraft. The last thing you want to return to is a lot of bounced payments and dishonoured fees.
Need financial support?
If you can't make ends meet, now is the time to organise short term financial relief. Please let us know if you need any help with cashflow forecasting, budgeting or finance applications.